Enjoy Quick and Efficient Maintenance with Mercedes-Benz Express Service

Driving a luxury vehicle offers many different benefits, but without routine maintenance, you won't be able to enjoy them for as long as you would like. With your on-the-go lifestyle, you might not always have the time to schedule an appointment for regular car maintenance. However, here at Calstar Motors, our express service is designed to provide efficient and effective routine maintenance coverage without requiring an appointment!
Our Mercedes-Benz Express Service offers a wide variety of services, including tire rotations, oil changes, and more. Our goal is to take care of your regular vehicle care needs at a time that works best for you!
Even though the job gets done quickly and efficiently, you can still trust our team to provide top-notch care. Our highly-trained Mercedes-Benz technicians will not sacrifice quality or accuracy, and we only use state-of-the-art diagnostic and repair equipment to ensure your car gets the best care possible.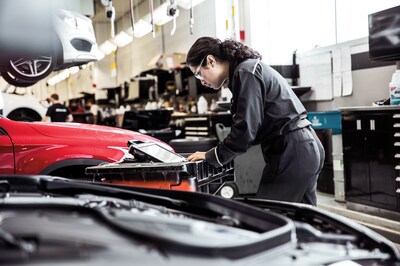 When Can You Get Express Service at Calstar Motors?
Any time our service center is open, our Express Service center is ready to help you out! You won't have to schedule an appointment - just stop by at your convenience, and we will take care of your vehicle in less time than it takes to find a seat in our waiting area! We look forward to keeping your Mercedes-Benz at the top of its game.
What Services are Provides by Mercedes-Benz Express Service?
While some in-depth repairs aren't covered by Express Service, most frequently-required routine maintenance needs are taken care of with short notice - typically within an hour. Check out a list of the covered services down below and reach out to us if you have any questions. Remember, you can also swing by at your convenience, and we will get you in for an appointment!
Tire Rotation
Air Filter Replacement
Complimentary Battery Test
Complimentary Fluid Level Inspection and Replenishment
Exterior Bulb Replacement
Mercedes-Benz Service A
Oil change
Cabin Air Filter Replacement
Complimentary Tire Pressure Check and Adjustment